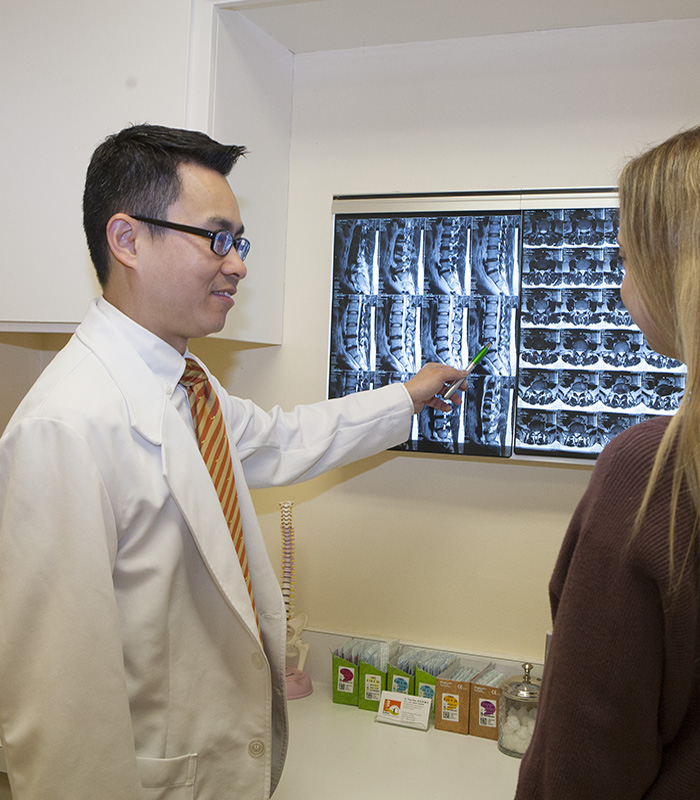 Dr. Tony Woo, DC, LAc, DAOM, FABORM
Dr. Woo is a California Board Certified practitioner in both Chiropractic and Acupuncture. In 1999, Dr. Woo completed his bachelor degree in Biochemistry at UC Davis. After his undergraduate studies, Dr. Woo continued his education earning his Doctor of Chiropractic Degree at Palmer College of Chiropractic West in 2003, and Master of Traditional Chinese Medicine (TCM) at the University of East West Medicine in 2008.
After receiving his Master degree in TCM, he advanced his training at the American College of Traditional Chinese Medicine (ACTCM) and obtained his Doctor of Acupuncture and Oriental Medicine (DAOM) degree in 2015. He completed his postgraduate training in Zhejiang Chinese Medical University in Hangzhou, China, specializing in pain management, infertility and women's health.
He is one of the few practitioners in United State holding doctorate degrees in both Chiropractic and acupuncture, and he can truly combine both techniques in a single visit to help you.
Dr. Woo also lectured at the University of East West medicine in Sunnyvale. He taught TCM pain management, orthopedic and traumatology from 2009 to 2013. He is also an adjunct faculty member at the ACTCM at the California Institute of Integral Studies in San Francisco, and he teaches post-graduate program in TCM Orthopedics and Rheumatology.
In his personal journey in fertility treatment, driven by his growing passion, Dr.Woo has specialized in TCM fertility. In 2016, he became a fellow in American Board of Reproductive Medicine (ABROM). He has helped numerous couples to conceive naturally through TCM treatment only or with the assistance of reproductive labs and western treatment. He also specialized in pre and post–natal care to support pregnancy and post-partum. He is a certified Webster technique practitioner. He has over 15 years experience in automobile injury and has seen different types of conditions. He knows when and where to make appropriate referrals to different professionals, and is also able to write thorough reports if necessary.
His extensive educational background has allowed him to work in multi-disciplinary environments, which include working alongside internists, endocrinologists, and neurologists. This exposure has helped him integrate Western and Eastern medicine to serve his patients. Dr. Woo is passionate about helping all his patients experience improved physical health and overall well-being.
Advanced Post Graduate Training
Doctor of Acupuncture and Oriental Medicine (DAOM) program, specializing in orthopedic, pain management, fertility and women's health.
Fellow of the American Board of Reproductive Medicine (FABORM), specializing in fertility treatment.
State Certified Radiography X-Ray Supervisor and Operator
State Industrial Disability Evaluation Certificate (IDE)
Certified in Webster technique for pregnancy care from International Chiropractic Pediatric Association (ICPA)
Certified Compression Band practitioner
Certified Cupping practitioner
Certified Instrument Assisted Soft Tissue Mobilization (IASTM) practitioner
Certified Kinesio Taping Practitioner and Traditional Taping
Myofascial Release (Deep Tissue Therapy), Gua Sha
Master Tung's technique
Moxa technique
Non-forceful chiropractic technique in activator, electrical adjusting tool and Thompson Drop techniques
Functional Rehabilitation Program
Orthotic Training
Fluent in English, Cantonese, and Mandarin.
Originated from Hong Kong and currently resides in Sunnyvale. Dr. Woo and his wife Winnie are active members at church and in the Sunnyvale community.
He enjoys biking, hiking, swimming, and playing with his two sons, Titus and Lucius.